Toyota Used Cars Near South Bend IN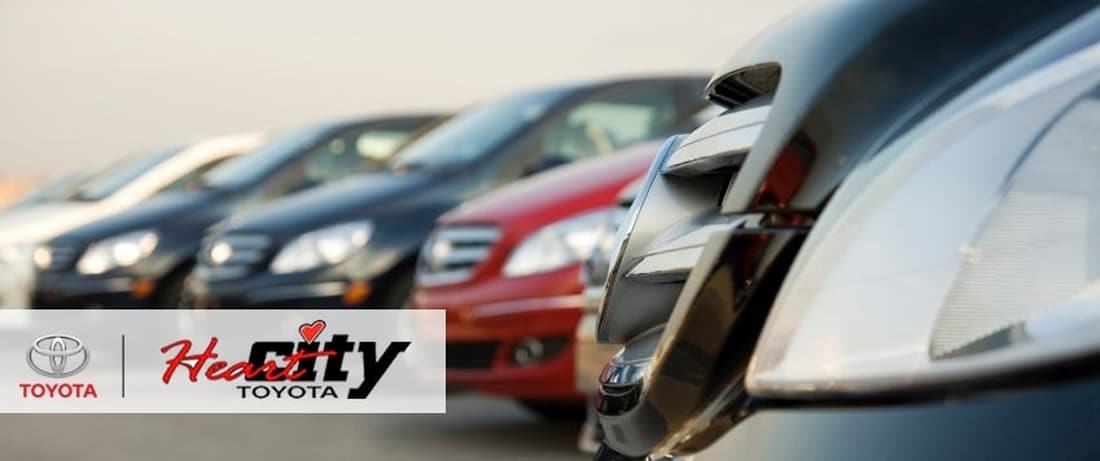 If you're looking for a used SUV for sale near South Bend, Indiana, do you want to minimize the hassle you encounter? It can be just as exciting at is stressful to track down reliable and competitively priced used cars near South Bend. When it comes time to get out of your boring old car and into your next one, why not be certain you're working with a trusted source? Those looking for a trusted Toyota dealer near South Bend who can make it simple to find the right vehicle should make Heart City Toyota their next destination! Our car dealerships near South Bend work around the clock to ensure you're offered the shopping experience you deserve. We have hundreds of new and used cars for sale near South Bend, Indiana just waiting for you to come and check out. Despite being able to save time by having a large selection in one place, you may feel as though going through our inventory is a daunting process. However, with the help of a dedicated sales and finance team, tracking down the
used cars near South Bend, IN
that fit your lifestyle and budget can be easy!
Each member of our staff at our car dealerships near South Bend understands how essential it is that you're set up in the right vehicle. For this reason, we make sure to arm our sales team with all the knowledge they need to give you a comprehensive and accessible experience. Since you can have an answer to all of your questions, honing in on your next car can be a breeze with our car dealerships near South Bend.
Are you trying to cut costs by buying used but have some reservations about their reliability? Whether you've worked with untrustworthy sellers in the past or this is your first time buying, it's normal to feel nervous about making a large investment. However, our Toyota dealer near South Bend wants to put your mind at ease when you shop with us for used cars for sale! By having every last used SUV for sale near South Bend, Indiana on our lots inspected, you can have total peace of mind. Whether you're interested in
new models
or pre-owned vehicles, you can rest assured you'll end up with a dependable vehicle. On top of this, you can count on our car dealership near South Bend providing you with a free history report to give you the transparency you deserve! 
Car Dealerships Near South Bend
Are you having a hard time trying to pinpoint your price range when looking for used cars for sale near South Bend, IN. It can be challenging to know where you stand financially if you haven't gotten a loan yet. However, you may be unsure of whether financing is a smart option and aren't sure whether getting pre-approved is a solid idea. If you want to gain insight into your budget without the need of applying for a loan, we have some excellent news. Before stopping by our car dealerships near South Bend, you can utilize our payment calculator to get a better scope of your price range. Since this tool helpful online tool can estimate your monthly payments, you'll be able to easily determine if financing is a viable option. On top of this, you'll be able to narrow down your options and hone in on the used cars for sale near South Bend, IN that fall within your budget.
To save even more time, our clients can also get pre-approved right from our website in seconds! Knowing your loan amount and APR will grant you even more insight while also saving you time. Many times, getting pre-approved before you stop by can mean lower interest rates, which can potentially save you hundreds or thousands! Streamlining the process of financing with our car dealerships near South Bend while also potentially saving you money makes us an excellent choice when it comes to automotive. 
Toyota Dealer South Bend
Although we make it easy to find reliable used cars for sale near South Bend, IN, we can also cover all your other auto needs. Our Toyota dealer near South Bend is home to a state of the art service center stocked with all the latest tools and resources. Putting our high-tech tools in the hands of trained and certified professionals means your car will get the care it deserves. From changing out your brake pads to transmission repair, we can keep your Toyota running as smooth as the day you bought it!
Giving you a solution to all your car needs is our primary objective, and you can rest assured we will work tirelessly towards your satisfaction. From finding a used SUV for sale near South Bend, Indiana to getting the most out of your current car, we'll have you covered. If you'd like to stop by and pay us a visit, you can find us open Mondays through Saturdays. Our Toyota dealer is located at 711 North Nappanee Street, Elkhart, IN 46514.