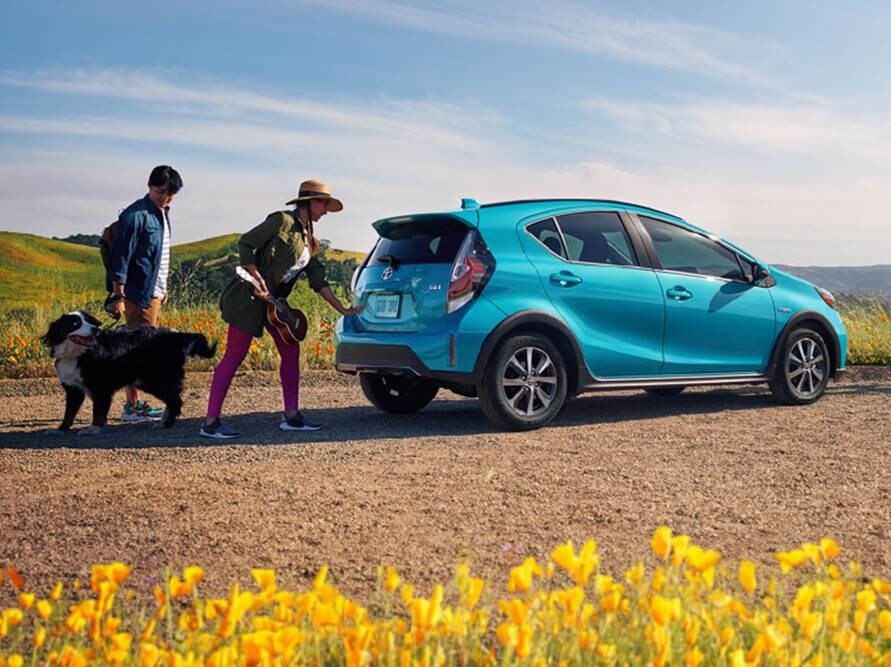 When you're ready to sell your car, Heart City Toyota is the ideal dealership to work with. Our Toyota dealership near you has been a pillar of our community for decades. Customers trust the outstanding reputation that we have earned over our years of dedicated service. Whether you are planning to buy, sell, or trade your next car, let Heart City Toyota help you save time and money. With so many car selling websites for you to choose from, finding the right place to sell your car can seem overwhelming. Our car dealership in South Bend makes the car selling process as simple and convenient as possible. There's no need for you to deal with the risks and annoyances of selling your car privately, when you can work with Heart City Toyota. Our car dealer in Elkhart strives to get you the best possible offer on your used car, within only three business hours. One of the major advantages of selling your car to our dealership near Granger is that you won't need to find a buyer yourself. If you were to sell your vehicle privately, you'd need to market your car online to find interested buyers. Not only does this take time and effort, but it can also leave you vulnerable to working with random strangers. Between the effort of deciding on a fair value for your car, and dealing with unknown buyers, selling your car on your own can be quite a gamble. Drivers near Niles, MI appreciate how easy it is to sell your used car to Heart City Toyota for the most competitive value. Whether you sell your car online, or visit our Toyota dealership near you in person, our team can deliver a firm offer in just three business hours. Let's review how you can maximize the value of your used car.


Used Car Values
In order to get the best possible used car value, there are several steps that you can take to prepare your car. Before you submit your car to our South Bend Toyota dealer for valuation, you'll want to make sure that it is primed for the sale. Here are some suggestions for getting the most favorable used car value at our dealership near Edwardsburg, MI.
Clean and detail your vehicle
Before you sell your car, it's vital to clean the vehicle from top to bottom. First impressions can go a long way! Make sure that the exterior of your car is freshly washed and waxed. Customers near Cassopolis, MI can either wash their cars themselves, or bring them to a professional for a car wash and wax. Don't forget about your interior - get all of your personal belongings out of the vehicle, and make sure that every inch is clean and free of debris.
Though few drivers enjoy paying for auto repairs right before they go to sell their car for cash, this investment can really pay off. To receive the maximum used car value, review your car for any small problems that you can easily fix before selling. Check that all of your car's lights are operational, and replace any burnt-out bulbs. Make sure that your fluids have been topped off, and that your car is running as smoothly as possible. An oil change or tire alignment is a small investment for getting a better offer on your used car!
Gather paperwork and any extras
Collect all of your important vehicle documents, and any extra accessories that could boost your car's value. Naturally, you'll need to bring your car's title and registration for the sale. If you have kept service records, these should be included as well. Additional sets of keys and other accessories can also improve your offer at our car dealership in South Bend.
Sell Your Car Online
If you don't have the time to stop by Heart City Toyota to sell your car in person, that won't be a problem. Our car dealership in Elkhart, Indiana makes it easy to sell your car online. In under ten minutes, you can submit your vehicle to Heart City Toyota to value your car. Let our dealership show you how to sell your car right from the comfort of home! When you're ready for our Granger dealership to value your car, you can get a firm offer in only three business hours. Scan your car's VIN using your smartphone, or enter it manually. Next, you'll answer a few easy questions about the car that you are selling to Heart City Toyota. Finally, snap some photos of the exterior and interior of your car. The Heart City Toyota team will value your car in three business hours or less. Our Toyota dealership near you will reach out to you with our most competitive offer. When you sell your car with our South Bend Toyota dealership, you won't need to pay any additional fees for our service. Other car selling websites frequently conceal extra charges for selling your car online - not at Heart City Toyota! After you have accepted our offer, we will contact you to schedule your inspection and title transfer. This inspection is just a formality for our staff to confirm the condition of your used car. Once your inspection and title transfer are complete, you'll be ready to cash your check! Niles, MI customers won't believe how simple it is to get an outstanding offer for your car, without ever leaving home. Heart City Toyota understands the value of your time. Our Elkhart car dealer goes above and beyond to give you a stress-free selling experience.
Trade In Value
Many customers who sell their car to Heart City Toyota are also in the market for their next vehicle. If you are interested in getting your next car from our Toyota dealership near you, your offer can be applied to your next vehicle purchase. With the Heart City Toyota SmartPrice online shopping technology, you can buy, sell, or trade cars completely online. Customers can find the ideal model online, using the Heart City Toyota virtual showroom, or build their own Toyota. At our local Toyota dealership, we never artificially inflate our prices in anticipation of a haggling war. We respect you and your time too much to engage in any manipulative pricing tactics! Whether you're buying a new or used car in our selection, or ordering the custom Toyota of your dreams, we provide a real-time, fair price for every car. If you're selling your current car to our dealership near Cassopolis, MI, your instant cash offer can be applied to this purchase. Of course, you are always welcome to redeem your offer for cash, rather than a trade-in.
For maximum transparency, Heart City Toyota provides every customer with a deal sheet. This document will review and explain each component of your transaction. The deal sheet will include the numbers for options like making a cash purchase, leasing, or financing your next car. After you review your deal sheet, you'll submit a simple credit approval application. You'll also need to share copies of your driver's license, and proof of valid insurance. This information is crucial for Heart City Toyota to present a final deal, customized for your approved credit status. Once you have accepted your final deal, you'll be ready to get your next car! Heart City Toyota can deliver your car to your home or office, along with the final paperwork. Our Delivery Specialist can also collect your trade-in at the same time, if applicable. Customers are also welcome to pick up their new car in person, at the Heart City Toyota showroom. For experienced service, attention to customer satisfaction, and transparent pricing, Heart City Toyota is the perfect place for South Bend drivers to sell their cars.