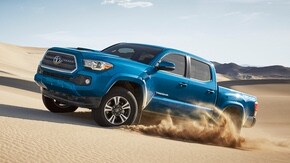 Toyota South Bend
When you and your family need a safer vehicle to take on the road, you know it's time to start shopping. Car shopping can be seen as something very daunting to start and finish. There are many people that have horror stories about buying cars that broke down or getting scammed when they thought they found a good deal. Sadly, these are true things that happen to some people. But if you team up with the right South Bend dealerships, it should be a simple process! At Heart City Toyota, we pride ourselves on being honest and helpful to our customers. We never want you to feel like you have to be wary when you're already weighing the big decision of which car to buy. We want you to let loose and have fun exploring new body styles and models that you haven't driven before. Test-driving our Toyota cars and trucks for sale, South Bend is something that we hope all our customers will look forward too!
Toyota Diesel Truck
Of course, the kind of vehicles that you test drive depends on what you tell our team you are looking for. If you need a family vehicle with fuel efficiency or a sporty sedan to drive to work daily, we can help. But if you also need a truck that will help you tow and work on outside projects, our dealership has a selection for that as well. Our new 2020 Toyota diesel truck models could be just the options you are imagining. If this is the first time you are researching the details of buying trucks, we want to be here to answer all your questions. We have team members that have experience in the automobile world with our trucks, the Tundra and Tacoma. They will be able to explain all the details that make the trucks at Toyota, South Bend, stronger and better for outside working areas.
If you are having a hard time finding truthful sources with facts about our Toyota diesel truck, you can check our website. We have a fully updated website that has real information about the vehicles we carry here. Since our pages are updated every day, you will know that you see the vehicles that we currently have available. There is a specific section for our trucks, so you don't have to look at models you don't want. From there, you can pick a specific model that you are curious about to find out more information. We have everything from a gallery of photos and a list of the features and technical details. You can always reach out to ask questions to our team if you can't find the answer on our website. Another thing that people think about when buying a new truck is the cost. Lucky for you, we have an on-site Toyota Finance Services that will help you find the lease or finance deal that will fit your budget.
We look forward to helping you find the right vehicle for the job today at Toyota, South Bend.