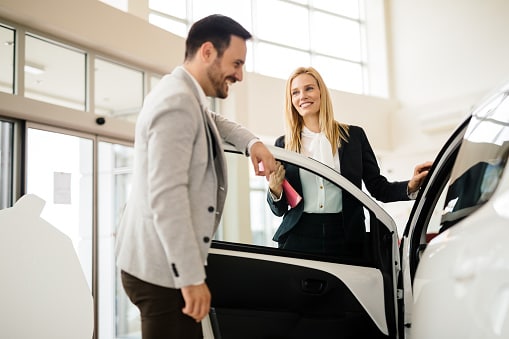 Car Dealerships South Bend
Our team wants you to feel excited about shopping for your next vehicle. A lot of our customers come to us with feelings like stress, overwhelm, and frustrated about finding the right cars. Honestly, we want you to know that those feelings only come about when you are working with a staff that doesn't know what they are doing. If you were to pick our dealership team at Heart City Toyota, we would take care of all your needs, so you don't feel stressed. The high-quality customer service that we provide will make sure you don't do all the work on your own. Our staff is here to listen to your wants and needs, and to serve you by solving those issues. If you go to other Toyota dealers, Indiana, they may focus on selling their cars fast. That poses an issue for you because their focus isn't on fixing your problems. They might only coax you into expanding your budget for their newest Toyota for sale near you. That's where you can see the difference between a customer service-minded team and another that wants to make quick money off of you. We are always here for you at our car dealerships South Bend.
You will be able to walk through our doors and feel at home with our friendly and helpful staff. The sales team will get to know your needs, and that's part of what makes this process easy for you. At our Toyota dealers, Indiana, we have a selection of cars that you will love to explore with the help of our teams! You can find anything from sedan and SUV models to large trucks for the tough jobs. No matter what your budget is, we will work hard to find the one that fits your lifestyle and budget.
Toyota Dealers Indiana
Our Finance Center is another place for you to find answers to your questions about buying a car from our used cars for sale in the South Bend area. You can compare the prices of a new and used SUV for sale, South Bend, Indiana, to figure out which will fit your budget. Of course, everyone knows you can choose between leasing and financing, why what the differences are? With financing, you will own the vehicle from our car dealerships South Bend at the end of your term. But with leasing, you have a second option. You can choose to come back and trade it in for a newer model before the term ends. You win no matter which way you decide to go, but we will choose the best option for your financial situation. Our finance specialists will work tirelessly until you can agree to a plan that you feel comfortable with.
Of course, if you have any questions for our staff about the details, you can reach out to our office by phone or email. We always welcome you to stop in as well if you want to see our state of the art facility for yourself.